For years I've searched for an effective natural solution for the frustrating problem of overactive bladder and urinary incontinence, something I could confidently recommend as an alternative to conventional drugs.
Clinical studies show that Incontinix® can significantly relieve urgency and overactive bladder in men. I'm thrilled to recommend it to my patients."
Is Your Life Revolving Around
A Weak Bladder?
Do you wake up multiple times a night just to pee?
Do you feel frequent urges to urinate during the day?
Do you feel like bladder issues are taking over your life?
If so, you're not alone.
In fact, according to the National Association for Continence:
Over 25 MILLION Americans suffer
from bladder problems.
It's a big deal.
And research shows, that when bladder problems aren't dealt with,
they get worse.
But unfortunately, there aren't many options available for men that
are proven to work without any negative side effects.
So What Can You Do?
If you're like most guys, you might limit your water intake to avoid running to the restroom. But we all know that's not a great long-term solution. In fact, studies show nearly 80% of adults don't drink enough water. And it's causing a TON of health problems.
So again… if you don't want to deprive your body of life-giving H2O… what can you do to alleviate the frequent urges to "go"?
For some men, they visit their doctor for help. And the typical advice is to "just live with it" because bladder problems are a "normal" part of aging. Other doctors may write you a prescription.
But these often come with unpleasant side-effects (actually, some prescriptions for incontinence are known to cause ejaculation problems – robbing you of the satisfaction of sex).
This devastating lack of effective options leaves men feeling hopeless and alone with their bladder issues.
But no more! Now there's a natural option that's clinically proven to reduce those aggravating "urges" to go… BOTH day and night… without any negative side-effects.
Order Now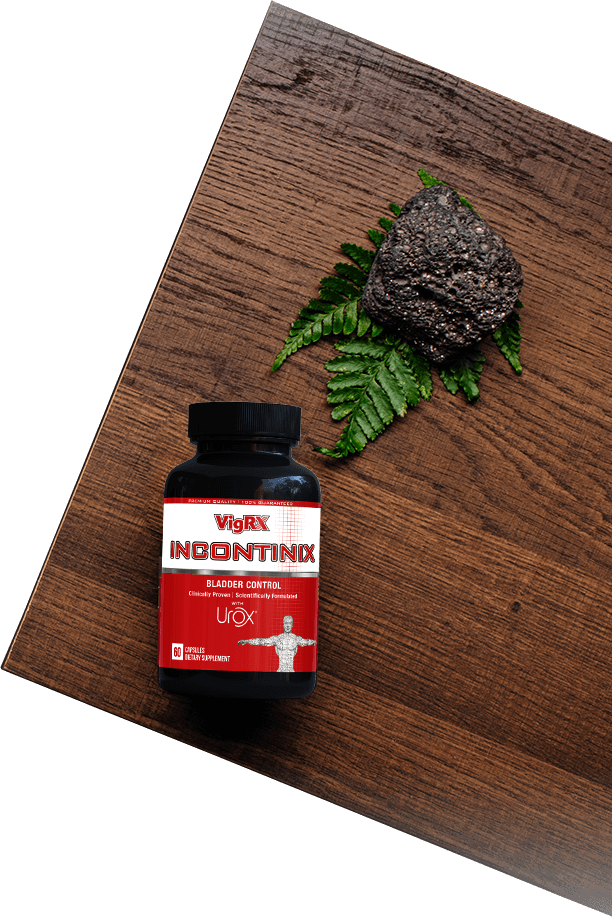 Clinically Proven
To Reduce Urges To "Go"
While most bladder formulas on the market today make big claims without any proof, our formula was put to the test in a REAL clinical study. And the results were so mind-blowing, that the study was published in a journal called BMC Complementary Medicine and Therapies.
Here are the details:
Researchers from Australia wanted to know if the formula in Incontinix® could alleviate common incontinence symptoms. So they recruited 150 volunteers suffering from bladder issues. It was an 8-week, double-blind, placebo-controlled study (the gold standard of scientific research).
The results?
The researchers were stunned when they discovered that the breakthrough formula in Incontinix® significantly improved ALL parameters of bladder health.
These amazing results included:
Fewer bathroom visits during the day
Decreased urges to "go" at night
Leaks cut in HALF
Improved quality of life
But that's not all…
The clinical study results get even better…
That's because the participants given this amazing bladder control formula saw their overall urgency reduced by 62%. And 60% of participants claimed to start having NORMAL daytime frequency. Plus… almost 25% STOPPED racing to the bathroom at night.
And after just 8 weeks, 23% of volunteers claimed to be totally symptom-free. Can you imagine completely eliminating your bladder worries in just 8 weeks?
Well, that's what some of these lucky participants got to enjoy… and so could you.
It's no wonder why the volunteers also reported enjoying an overall better quality of life with better sleep. Are you ready to get your life back to normal and start sleeping through the night again?
If "YES!", then you'll be delighted by how fast our formula works.
Results Start In As Few As 14 Days
Incontinix® is designed to work fast, so you could start noticing results in just 14 days. Just imagine, in 2 weeks, you could start feeling fewer urges to "go" and taking fewer trips to the bathroom. And as time goes on, you may even start sleeping through the entire night WITHOUT any bladder interruptions.
Just remember, supplementing with Incontinix® daily is the "key" for maximum results. Which means, the results get better the longer you use this breakthrough formula. So although results occur rapidly, you'll be amazed at how much more control you have over your bladder the longer you take Incontinix®.
Incontinix® Works By Strengthening
The
3 "Elements"

of Bladder Control
Incontinix® works by strengthening the muscles of your bladder, pelvic wall and sphincter.
All 3 of these areas are crucial for bladder control. And when you strengthen these muscles, you could expect less frequency both day and night.
That means you could finally end your bladder worries…
WITHOUT limiting your water intake
WITHOUT doing "weird" pelvic exercises
WITHOUT swallowing prescription pills
Order Now
Made With A 100% Natural,
3-Part Bladder-Control Formula
We believe Incontinix® is the most powerful natural option available for MALE bladder support. That's because this unique, 3-part formula has been tested and perfected by OVER 20 years of cutting-edge research.
In fact, this one-of-a-kind breakthrough was tested in 14 clinical trials. And that's why it's backed by 24 global patents (including U.S. patent #9,452,191) and won multiple awards for effectively alleviating bladder inconveniences.
With Incontinix®, you get a daily dose of 840 mg of this patented formula. That's the SAME dose clinically shown to reduce urgency by 62%. The SAME dose shown to cut leaks in HALF… improve sleep … and dramatically improve quality of life. The SAME dose that could help you regain control of your bladder in just 8 weeks… without ANY reported negative side-effects.
Bladder-Control Nutrient #1
Cratevox™
(Crataeva Nurvala)
Crataeva Nurvala is an herb used for centuries to provide bladder support and help relieve urinary problems. And a recent study showed Crataeva increased BOTH bladder tone and bladder capacity.
Cratevox™ is a specialized extract of Crataeva Nurvala. It's made using a unique process designed to ensure consistent quality for maximum effectiveness. Plus, this particular bladder-control nutrient helps reduce urges to "go" while promoting a total feeling of relief after urinating.
Bladder-Control Nutrient #2
Lindera Aggregata
Lindera Aggregata is considered an "anti-aging" herb for the bladder. That's because it works by "rewinding" the age of your bladder… back more to it's former, younger, stronger self.
This powerful bladder rejuvenation nutrient could help you feel in total control over your bladder. And what's special about the Lindera Aggregata in our formula is that it's grown and cultivated using the strictest quality guidelines. So you can expect the highest quality, every time, for consistently amazing results.
Bladder-Control Nutrient #3
Horsetail
(Equisetum Arvense)
Horsetail is an herb recommended by medical professionals for patients struggling with occasional urinary incontinence. That's because Horsetail demonstrates powerful anti-inflammatory properties – which are key for healthy bladder function. Most excitingly, studies show combining Crateava and Horsetail significantly reduces bathroom visits.
With Incontinix®, you get a healthy dose of Horsetail combined with a special form of Crataeva. This creates a powerful synergistic effect for dramatically reducing bathroom visits while giving you more control over your bladder.
FINALLY!

A Natural Bladder Breakthrough That's Both Effective & Safe For Everyday Use!
Thankfully, with Incontinix®, you don't have to worry about negative side-effects. That's because this clinically tested formula was proven safe AND effective.
In fact, one clinical study published by the journal BMC Complementary Medicine and Therapies reported how the researchers were shocked by the lack of negative side-effects. Imagine that!
And that's why you can feel confident taking Incontinix® every day to support your bladder health.
Support Your Bladder

For Less Than A Coffee A Day

Imagine waking up tomorrow with control over your bladder.
No more waking up in the middle of the night just to go pee.
No more frequent sprints to the bathroom during the day.
No more worrying about your bladder problems getting worse.
It's over. The bladder nightmares are finished. You're free now.

Sounds amazing, right?

Now let me ask you… How much would that freedom, relief and peace of mind mean to you?

If you're serious about eliminating your bladder worries, you might admit to paying just about anything.

Well luckily, you don't have to cough up a fortune to support your bladder with Incontinix®. That's because you can try this revolutionary bladder control formula for LESS than a cup of coffee a day!
Enjoy
MORE

Confidence &


MORE

Control Or Your Money Back!

Supporting your bladder health with Incontinix® is RISK-FREE.

That's because we backed this incredible formula up with a 100% satisfaction, money-back guarantee.

Here are the details:

If you're not enjoying MORE confidence and MORE control over your bladder, then simply send the bottles back within 67 days for a prompt refund of the purchase price. No questions asked.
Are You Ready To Get Life Back To Normal Again?
Remember sleeping through the night without interruptions?
Remember drinking as much water as you wanted without a care in the world?
Remember enjoying your favorite activities without worrying about where the bathrooms were?
Isn't it time you experienced that peace of mind today?
If you're ready to get your life back to normal again… so you can enjoy your life to the fullest… then don't hesitate to secure your risk-free supply of Incontinix® today.
Remember, your satisfaction is guaranteed.
Simply choose which package you would like to start with now.
Don't Let Bladder Problems Rob
The Quality Of Your Life Any Longer
Here's the sad truth:
Bladder issues rarely "go away" on their own.
In fact… the problem typically gets worse over time. That's because the bladder keeps getting weaker and weaker. So urgent trips to the bathroom become more and more.
But that's not the worst part. You see, as bladder problems progress, most men start experiencing leaks. These leaks are typically small and annoying at first. But then, they become a REAL nightmare.
It happens all the time. And when leaks become an issue, most men are forced to buy pads and special underwear to deal with the uncomfortable wetness and the urine smell. Even worse, some men are resigned to a life of wearing adult diapers.
It's the worst nightmare for any man struggling with bladder issues. And Incontinix® is formulated to prevent this from happening to you!
So why not take control today? Get the support you need to live your life WITHOUT bladder worries!
Do You Have Any Questions?
GOOD VALUE
1 MONTH

SUPPLY
4 easy payments of

15.00


interest free with
GREAT VALUE
2 MONTH

SUPPLY
4 easy payments of

25.00


interest free with
MOST POPULAR
3 MONTH

SUPPLY
4 easy payments of

32.50


interest free with